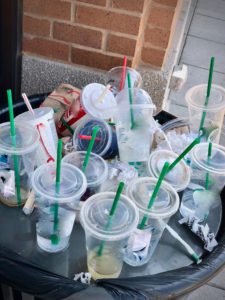 91% of all plastic does not get recycle. This picture depicts, a perfect example that supports the statistic thatis what was visible  upon  entering a  local store, we noticed something there is a trashcan overflowing with plastic cups and straws. The first thought that came to mind as all my gosh look at all those straws! And then once we started thinking about it further we realize that all of those plastic cups could be recycled but they were not.
So to be proactive, we asked the owner of the store where the recycling bins were outside and she said unfortunately we do not have them, that the landlord did not provide any. This was disappointing to hear, however, Helping Ninjas decided to make it a mission to find out! A letter must be sent to the landlord, once he learns of this mistake, they might be surprised to learn about the effects of global plastic pollution.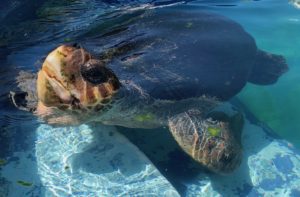 Reason the plastic waste was piled and overflowing up on out of the top of the trashcan was because the actual trashcan was probably filled with them and overflowing…Can you imagine how many sea turtles are harmed because of instances like this?
Helping Ninjas want others to learn from this, and to help places around the world to have more access to recycling bins, and/or educate others to take their trash home with them and reuse it and/or recycle it themselves.