Want to help your children make more sustainable choices this Halloween?
Did you know that nearly 600 million candy wrappers are sent to landfills each year from Halloween?
Helping Ninjas founder of Helping Ninas is helping to empower youth in our city by collecting Halloween candy wrappers to be recycled — Helping Ninjas need your help! Consider opting not to throw the wrappers "away" and choose to collect your empty candy wrappers and recycle them!
Helping Ninjas Zero Waste Home Collection Box
Helping Ninjas encourages and provides an opportunity to youth throughout the year to create their own at home "TerraCycle" home-made zero waste boxes to collect snack wrappers and other items that are not reachable at municipal curbside recycling centers, and now Halloween candy wrappers!
Check out these awesome Helping Ninjas at West Clay Elementary in Carmel, Indiana at the Carmel Clay Parks and Recreations after school enrichment program, ESE Helping Ninjas Club!
Helping Ninjas is participating in efforts to reduce waste with Rubicon Globals partnership with TerraCycle #TrickOrTrash, a new sustainable educational campaign for elementary and middle school students!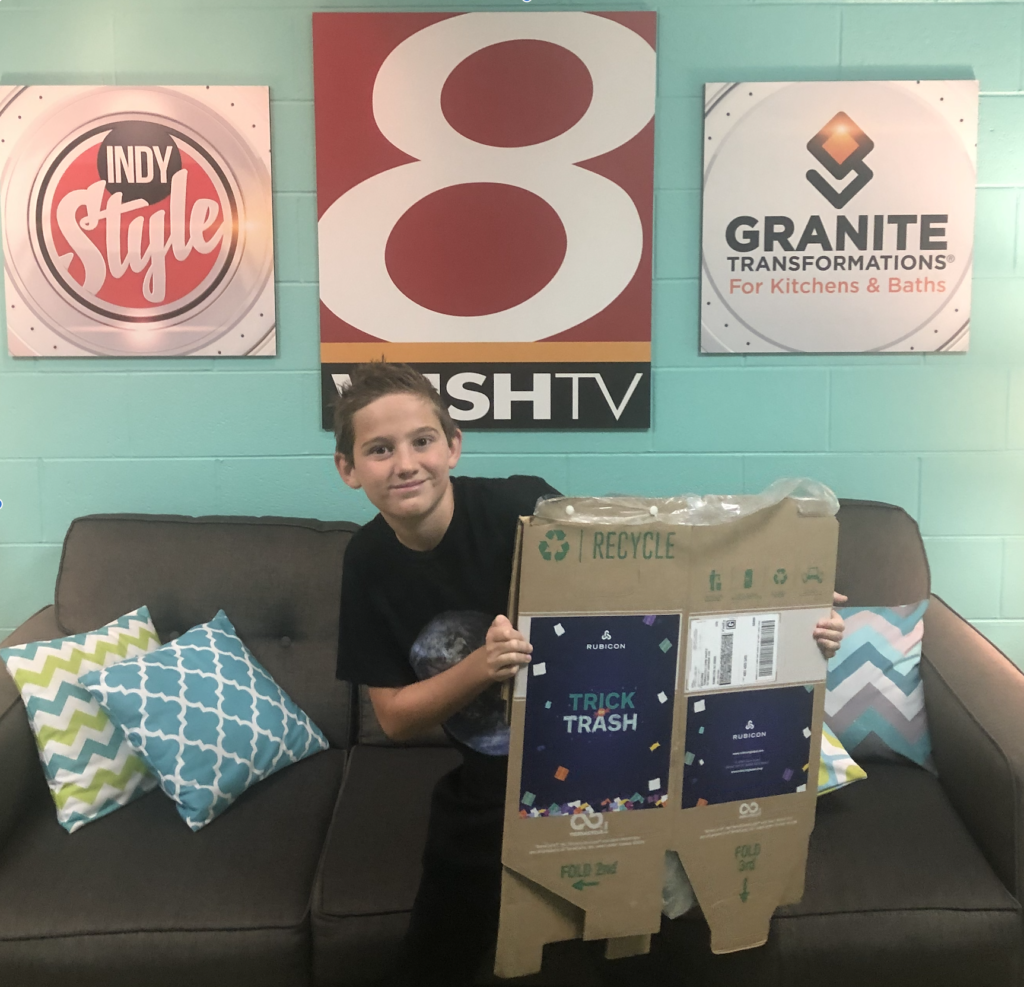 Until now, candy wrappers were not recyclable at curbside and municipal recycling centers: Rubicon Global and TerraCycle's #TrickOrTrash campaign provides students a means to recycle candy wrappers!
Candy is collected and shipped back to TerraCycle in a Zero Waste Box to be recycled. TerraCycle will recycle or compost the fibers of the candy wrappers, avoiding the landfill altogether! Rubicon Global is also offering a lesson plan to educators to learn more about reducing waste and making sustainable choices.
Rubicon Global "Trick Or Trash" Official Press Release:
https://www.rubiconglobal.com/news/trick-or-trash-halloween-campaign/
Helping Ninjas is collecting candy wrappers throughout Indianapolis via schools and neighborhoods and student groups now through NOVEMBER 15th which is AMERICA RECYCLES DAY.
To see a list of participating schools and student groups and/or to join efforts locally and get more information Click here. Consider learning how you can join the Helping Ninjas' efforts in Indianapolis and collect candy wrappers to recycle this Halloween for Rubicon Global's #TrickOrTrash Campaign.
Post efforts on social media and tag #TrickOrTrash
DID YOU KNOW? In a landfill, some candy wrappers can take hundreds of years to decompose, some even thousands! Scary! What is even more startling is that there has not been any option for consumers to recycle candy wrappers in our country ever, until now! Thanks to Rubicon Global and TerraCycle, there is another option for our empty candy wrappers, it's called a Zero Waste Box!
A Sustainable Halloween
Helping Ninjas founder and his mother, CEO, Lindsey Fella Berry appeared on WISH TV in Indianapolis today letting others know how they can have a more sustainable Halloween!
Rubicon Global "Trick Or Trash" Official Press Release:
https://www.rubiconglobal.com/news/trick-or-trash-halloween-campaign/