School of Rock is an official honorary Helping Ninja!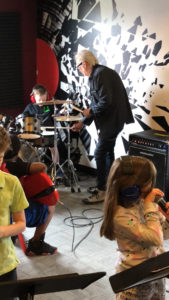 Not only does School of Rock help our youth inspire to be future musicians by providing a unique experience to enjoy and learn the love of music, School of Rock now is now helping the kids of Helping Ninjas experience this one-of-kind opportunity to play in a rock band — AND NOW they are also helping to reduce waste and fight hunger!
See more pictures from us rocking out to help reduce  waste & food rescue on Earth Day here.
All participants of this special event brought an item to donate to Second Helpings. This organization rescues food and feeds those in need. Often they are in need of spices and rice to make meals complete – so, the Helping Ninjas and School of Rock joined forces in helping them! Collecting over $100 worth of Wish List Items. Children participating in this event were  ages 4-10. School of Rock offers classes for 5+ and adults!
A Passion For Music Education
Everyone deserves to feel like a rock star at School of Rock. Classes focus on  learning in fundamental areas such as stage performance, harmonies, and helps to build confidence, extraordinary teamwork, and achieving excellence through their unique teaching method.
Learn more about their Intro To Rock!
Second Helpings is Transforming Lives Through the Power of Food
Each day, Second Helpings volunteers and staff rescue prepared and perishable food from wholesalers, retailers and restaurants — preventing unnecessary waste. That rescued food is used to create 4,000 hot, nutritious meals each day that are distributed to over 85 social service agencies that feed people in need.
Learn more about Second Helpings 
Read Our Student Blog: