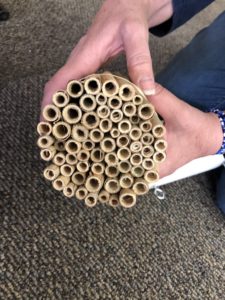 What are you doing for Earth Day? Did you know 400-500 Mason Bees can do the same amount of work in the same time that it takes 30,000-50,000 honey bees? Helping Ninjas are learning about gentle native bees, such as Mason Bees — and how you can help them! Right in your own backyard! They are gentle bees, so they will not sting you – and they are quite amazing! Want to learn how your chid can help too?
Native Bee Hut Project Ninja Missions
To join us as we embark on the initiate to help save bees and pollinators with Holly's Hives, the Native Bee Hut project, email  info@helpingninjas.com
Visit The Native Bee Hut Project, to learn more about Holly Faust of Hamilton County Park, and how the Helping Ninjas'  are helping!
To keep up with our progress, subscribe to the  Helping Ninjas Blog here:  SUBSCRIBE TO OUR BLOG