Write For Our Helping Ninjas Blog!
A perfect opportunity for any Helping Ninja – send us your thoughts, acts of help, experiences, anything related to our Helping Ninjas Initiative – creating awareness and leaning to help the  planet, each other and ourselves –  you can send to us and we will publish on our blog!
Accepted submissions for blog posts:  experiences, stories, ideas, poetry, essays, spotlights, articles, helpful tips or links, pictures, illustrations, drawings, graphic art, DIY Projects – all submissions to info@helpingninjas.com.
We are currently looking for Earth Day Blog Submissions. Click here to read ideas for Earth Day Blog Posts.
Example Blog Post:
March 1st, 2018
Hi! I am a Helping Ninja and today I helped create awareness about the importance of pollinators by drawing a picture about bees.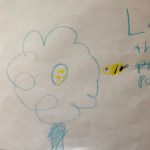 Helping Ninja, Age 5, Zionsville, IN 
Example Blog Post:
December 20th, 2017
Hi! I am a Helping Ninja and I helped by doing chores at home. I like washing dishes because it makes me feel good to help.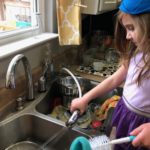 Helping Ninja, Age 6, Carmel, IN 
Example Blog Post:
November 10th, 2017
Hi! I am a Helping Ninja and I helped my mom and my aunt deliver Thanksgiving baskets on Saturday to people less fortunate than me. I liked doing it because it made me happy. It made me happy because it was fun to make peoples Thanksgiving happy too because they now have food and stuff when they would not have had before. One lady even wrote me a thank you note. This made me feel good that I did it.
Helping Ninja, Age 8, Carmel, IN, College Wood Elementary