A composting experiment. One jar has food scraps, soil, worm compost, hay, and compostable cardboard and fabric. The other jar has all the same plus trash. The jar with the compost needs to have air. The landfill jar with the trash will keep a lid on it because land fills do not have air. We will watch the jars and see what they do!  Stay tuned as we continuously update you on our compost in a jar!
November 15, 2017, Compost In A Jar
Hi I am a Helping Ninja. Today we had a composting party. We learned about what composting is. And I knowI have a choice to not throw things in the garbage. And now I have my own compost in a jar.
Helping Ninja, Age 8, First Grade, Indiana Montessori Academy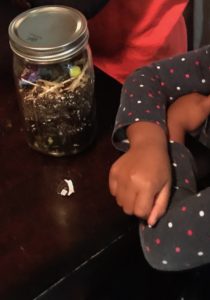 November 17, 2017, Compost In A Jar Party
Hi I am a Helping Ninja and we had a Helping Ninja Party to celebrate National America Recycles Day. I learned about recycling and composting. Composting is kind of cool. There was an experiment. One jar is a compost, the other will be like a landfill. I can't wait to watch and see what it does. I am glad I came to the party because I didn't know about this ever before.
Helping Ninja, Age 10, 4th Grade, College Wood Elementary
 ©2018 Lindsey Berry All rights Reserved