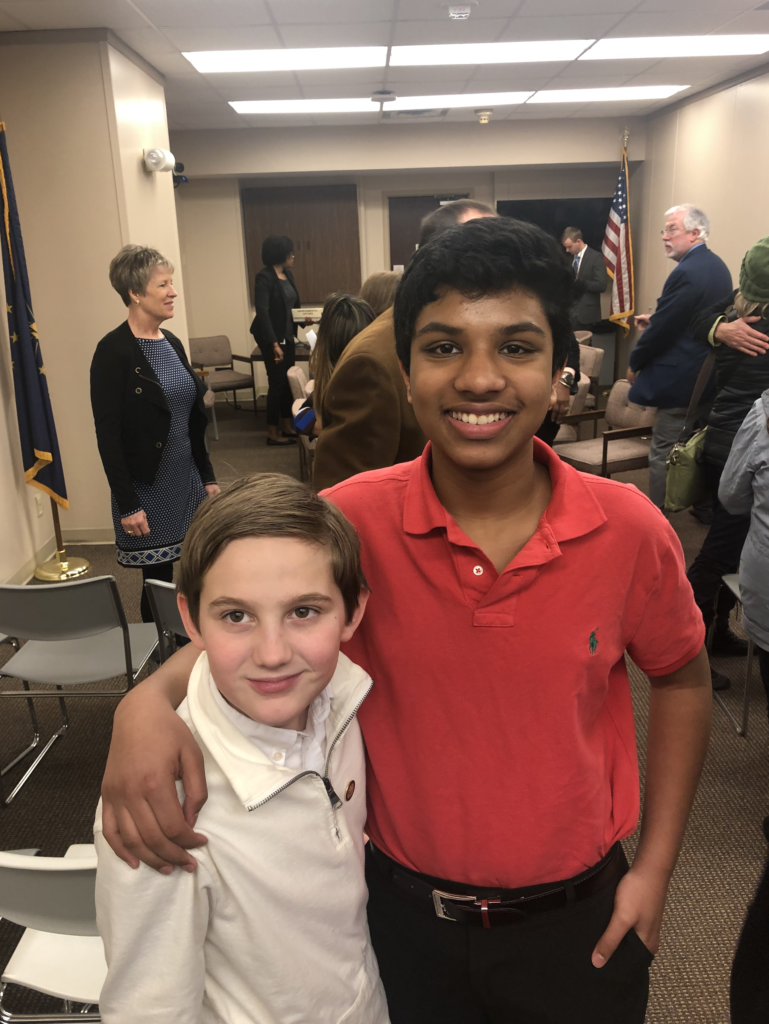 Helping Ninjas Leaders, Leo and Sid, at the Indiana State House Wednesday, February 26 in Indianapolis, Indiana.
Indiana Wetlands Restrictions and Protections Lifted
By Leo Berry, Helping Ninjas Founder
Written February 26th, 2020
On Wednesday, February 26, I attended an Environmental Affairs Committee hearing at the state of Indiana, where nine state representatives voted 5 to 4 to pass a bill considered by the House, that would deregulate the protection of Indiana's remaining wetlands.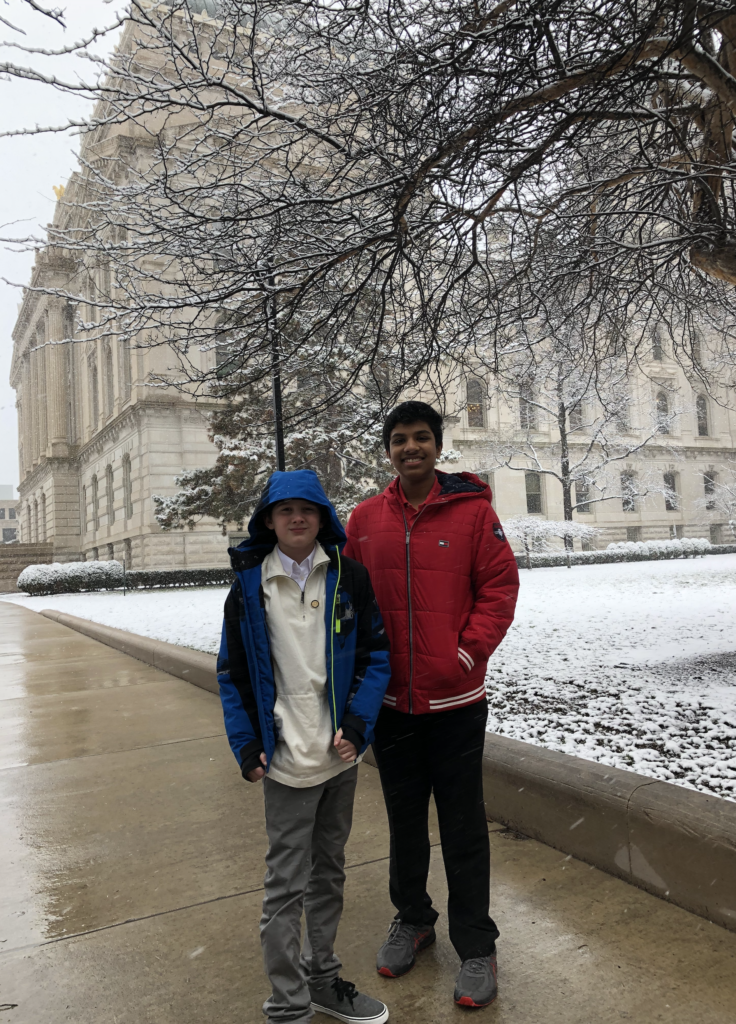 Sid and I attended the hearing at the Indiana Statehouse of the new proposed bill by SP-229 Senator Spartz.
Wetlands play an important role in nature and are required for a healthy and balanced eco-system. They act as a natural water purification source, helping to replenish and clean groundwater. Wetlands provide a habitat for many species, some endangered, and also play a crucial role in our environment.
Wetlands are productive and valuable resources and are worthy of protection and restoration. Today, the concentration should be on preserving wetlands.
For instance, one acre of wetlands stores approximately 1.2 million gallons of rain water. During a drought, agriculture can benefit from protection of wetlands.
"In 1985, it was determined that 85% of original wetlands in Indiana had been lost, and were impossible to recover."

Indiana Department of Environment
The Isolated Wetlands Law (Indiana Code 13-18-22) was established in 2003, to preserve the Indiana wetlands that are not federally protected by the Clean Water Act.
Now, here in 2020 that protection is in question.
Sen. Victoria Spartz, R-Noblesville, wrote Senate Bill 229, according to the Indianapolis Star, "which removes state oversight of certain wetlands near what are called regulated drains, which are thousands of miles of man-made ditches, streams, sewers and drainage pipes constructed throughout Indiana in the past century to alleviate flooding."
"Members of the committee. I want to talk about what this bill really does. There is a lot of fake news going around, about what this bill does, so let's just talk about what this issue really is. Over 100 years ago we decided that Indiana was not going to be a swamp. That Indiana is going to have productive land. So, we created regulated drains and we give the government the rights to access and fix this drain. So this bill only deals with regulated drains that are already is under jurisdiction of local surveyors."

Senator Victoria Spartz
Here is a video of Senator Spartz opening statements of the statehouse Environmental Affairs Committee:
Spartz then began to explain her opinion of why our state needed this bill.
"Spartz said her motivation is to eliminate an unnecessary regulation that burdens county surveyors, who she thinks are better positioned to make local decisions, and costs taxpayers money."

Indiana News, February 28, 2020
A member of the Hoosier Environmental Council said, "removing the need for permits for the reconstruction of drains could cause excessive damage to wetlands."
The Sierra Club and the Indiana Department of Environmental Management opposed the bill too.
"Environmental groups had concerns that the bill would allow surveyors too much authority to widen, deepen or move regulated drains without state oversight, potentially creating situations that could lead to more flooding, loss of wetlands and wildlife. They worry the bill would remove state experts from monitoring certain wetlands while allowing each county to regulate drains differently, creating a patchwork of rules across Indiana."

Indy Star, February, 28th, 2020
I believe this the bill is not the best idea for the health of our environment because if the general assembly passes Senate Bill 229, it opens the possibility that someone can destroy wetlands in Indiana without thinking twice about it.
And, the destruction would be irreversible.
Leo Berry, Age 10, Helping Ninjas Founder
UPDATE: Indiana Senate Passes Senate Bill 229.
It is critical that Indiana Senate does not pass Senate Bill 389.
"Wetlands are one of the most important conservation issues we face in Indiana at the moment. They are some of the most diverse ecosystems we have."

—Jon Voelz, Indiana Wildlife Federation
Please consider signing my petition: Save The Wetlands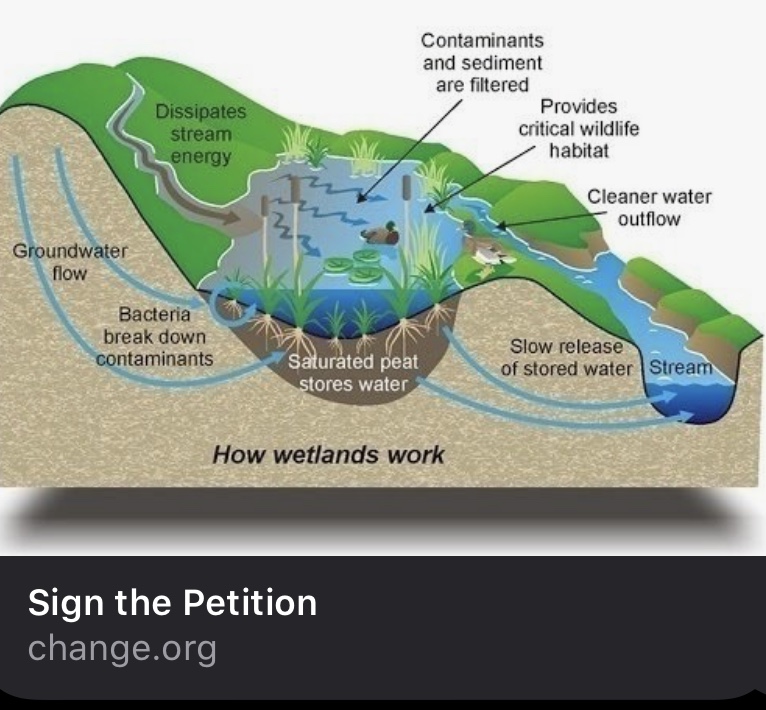 I created a petition to bring awareness to the importance of wetlands. Not just in the state that I live in, but our entire country and beyond.
Wetlands enhance water quality, control erosion, maintain stream flows, sequester carbon, and provide a home to one-third of all threatened and endangered species (or more).
Click here to learn more about why wetlands are important.